Whether you are an aspiring musician or you enjoy throwing karaoke parties every once in a while, finding the best bass combo amp for small gigs can be challenging. Some units are more expensive than others, while features are often overwhelming.
What is the best choice then and what makes it so special?
Long story short – based on hundreds of reviews and having just the right features for small and medium gigs, the Ampeg BA110V2 Bass Combo Amplifier seems to be the most balanced option on the market. It comes in more sizes and carries Ampeg's high-quality standards.
Best Bass Combo Amps For Small Gigs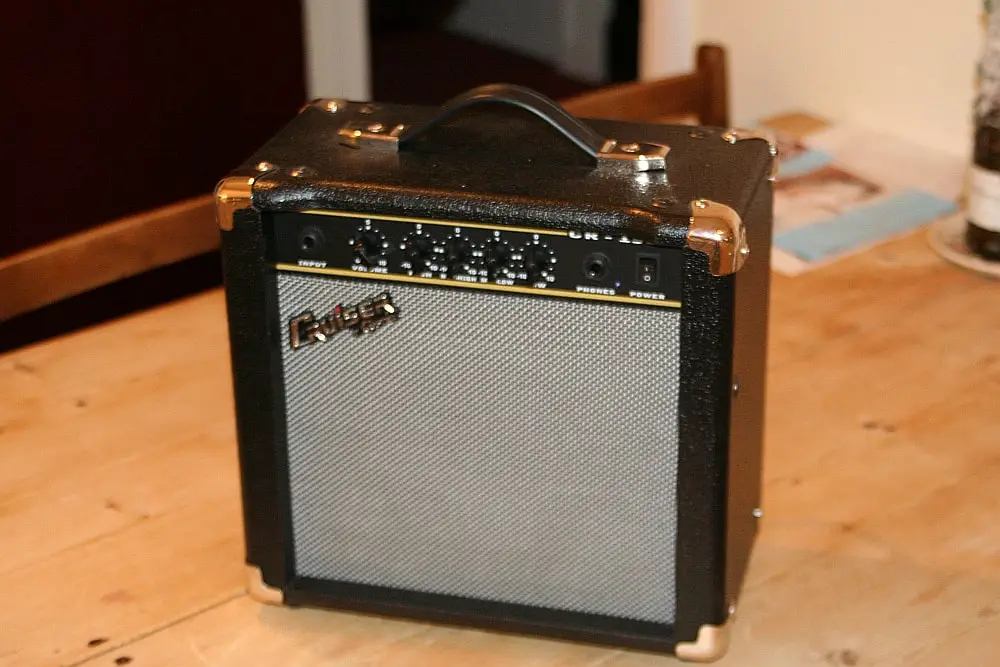 Ampeg's bass combo amp comes with an impressive cabinet design. Its construction boosts a 60 degree sound reinforcement angle, which adds to the overall clarity. Sound is thoroughly directed with no problems at all, even in tiny places. It comes with a steel chassis, metal corners, and rugged covers.
It is built with portability in mind – only measures 13x16x18.8 inches and weighs 34 pounds. The 40 watt RMS power makes it suitable for both small and medium areas. You can use it in your own living room, as well as a bar. The three-band EQ adds to its versatility, while the control panel is straightforward and conveniently placed on one side.
In terms of inputs and connectivity, there is nothing to worry about. You have 1/8 inch stereo and 1/3 mono auxiliary inputs, as well as level control for them. Other than that, the 1/8 inch headphone output is excellent when practicing at home – you do not want to disturb your family or wake your neighbors up in the middle of the night.
The 10 inch Custom10 speaker guarantees sound quality while achieving SVT grind has never been easier with the Bass Scrambler overdrive.
Pros
Multiple connectivity options
Compatible with smartphones and other similar gadgets
Good value for money
Extra clarity on the bass
Easy to move around
Cons
Some units are reported to come with defects
Not suitable for large gigs
Hartke's HD25 comes in multiple sizes, depending on what you are looking for. The 25-watt choice seems to be the most popular one, yet you can find it in 15, 50, 75, and 150-watt options as well. The output power is more than enough for small gigs. It works well in small environments, whether you practice in a garage or you have a live music concert in a pub.
In terms of inputs, you have a classic 1/4 inch input for passive and active bass guitars and a more versatile 1/8 inch stereo aux input. It works with most stereo line-level devices, from keyboards and drums to MP3 players. When practicing, you can use the 1/4 inch headphone output – it will not disturb anyone at all.
The unit is quite portable – under 25 pounds in weight. Also, it comes with a molded strap carry handle and reinforced corners for durability. It features an 8-inch HyDrive paper and aluminum cone driver, as well as its own limiter. The metal grill is perforated, while the amplifier holding controls is mounted on the top.
Pros
Highly portable
Available in more sizes
Intuitive controls
Loud for its compact size
Durable and solid design
Cons
No bells and whistles
Might lose some clarity when mixed with loud instruments
Small gigs to some people might be large gigs to others. If you want something to tackle your small gigs regardless of how you define them, Roland's bass combo amp could be the right choice for you. It measures 16x14x11 inches and barely weighs 18 pounds. It is highly recommended to those who travel for music purposes due to its great portability – convenient handle on top.
Just like other models in this size range, this one comes with four-inch speakers. They are newly designed by the manufacturer and aim to deliver a more detailed sound. You also benefit from eight COSM amps, as well as six different digital effects. As for controls, they are conveniently placed on top of the unit.
Apart from small gigs, this combo amp makes a good training tool as well. Interested in practical rhythm training? You have a Rhythm Guide setting to help with that. Also, the amp features a stereo AUX input for MP3 players, phones, or CDs. It is worth noting that it works with batteries and can provide up to 13 hours of continuous use.
Pros
Rhythm guide for training
Multiple connectivity options
Special effects
Runs with batteries – extremely mobile
Can also be plugged in with AC power
Cons
Only suitable for small gigs, no large crowds
Confusing manual of instructions
You just cannot go wrong with a Fender when you need reliability and versatility. This model makes no exception either. It comes with all the features you might need, as well as plenty of power in a portable package – a solid handle on top and 10 pounds in weight.
Operating Fender's amplifier is fairly simple, regardless of where you want to use it. You can just plug your MP3 player into the jack and the party can begin. It features a traditional 1/8 inch auxiliary input jack. The 1/4 inch headphone output jack is ideal for those who want to practice before their shows. It mutes the speaker output and allows private practicing. Forget about disturbing your family or neighbors.
The bass combo amp is available in multiple versions – more sizes in terms of power, both individual and combo packages, as well as with or without a cable. Also, it features a three-band EQ, which makes tone-shaping a breeze. Given its ratio for size and power, it makes a good choice for small gigs in small areas.
Pros
Tone shaping made easy
Multiple sizes and power choices
Easy to use, even by newbies
Highly portable
A good ratio for power and size
Cons
The default version does not come with a power cord
Not powerful enough if you want to upgrade to larger crowds
Whether you are a beginner or a professional, this bass combo amp is ideal for small and medium gigs. It makes no difference if you have 20 guests or 150 guests. It features a unique technology that you cannot find in other manufacturers – psycho-acoustic low-end enhancement. Its main role is to implement low end without causing any trouble to the speaker. Obviously, it can be used for practicing as well.
The amp features 300 watts of power into eight ohms. It is also available in other versions – from 10 watts to 200 watts.
However, the 300-watt unit seems to be the best-rated one. Despite the power, it is highly portable – 24.4×19.1×14.5 inches and 52 pounds in weight. It features a 15-inch speaker with a high-end tweeter.
Some of the main features coming with this amp include the TransTube circuitry, which will gain a boost for unique sound and characteristics, as well as the DDT speaker protection and the three-band EQ. The EQ comes with mid-shift, punch, and bright controls. Also, you have a direct output with ground lift.
Pros
Extra protection for the large speaker
Automatic tweeter control for more authentic tones
Exquisite power for its size
Available in a series of power ranges
Portability features
Cons
Direct Line feature might cause too much static if the electrical wiring is not the best
The cord is too short
Buying Guide
Apart from deciding between solid-state versus tube amps (each has its own pros and cons), there are plenty of small features that can make the difference. Tone controls are quite important for a pleasing sound. Some models come with sophisticated equalizers, while others are optimized to bring in certain sounds.
Channels are just as important – you need at least two. It is quite important to have control over the overdrive, so keep an eye for this feature. You should also consider damping and resonance controls, a direct output, switchable impedance, multiple speaker jacks, passive and active inputs, XLR balanced inputs, and effect loops.
They might look like small features, but they can make or break a deal. As for larger considerations, make sure you know what kind of speaker you need, not to mention the power.
Conclusion
The Bottom line, Ampeg BA110V2 Bass Combo Amplifier can certainly qualify as the best bass combo amp for small gigs because it has just what you need. There are no fancy bells and whistles, but just the right capabilities at the optimal quality standards.
Other options are not to be overlooked either, whether you want more power, larger speakers, or other features.